SERVING THE GREAT LAKES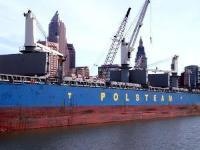 Established in 1968, Columbus Shipping is an independent steamship agency serving the Great Lakes. Our company was founded by Robert Gierszal, former owner of Codan Corp in Erie PA. Codan operated as stevedore at the Port of Erie for over 30 years.

Columbus Shipping & Trading Agency, Inc. offers the full range of independent ship agency and vessel husbandry services. We are proud of the long lasting relationships we have developed with our customers and take pride in offering the highest level of service in a sound, ethical and professional manner.

Our knowledge of local conditions ensures that all port calls are handled appropriately. We offer competitive rates, quality service, and timely disbursement accounts.

Based at the Port of Cleveland, Columbus serves the Ports of Cleveland, Erie, Ashtabula, Toledo & Detroit.

---